Meet-A-Mate, 2 March 2018: The Gallipoli ANZAC Landings
On 2 March, 170 members of the Air Force Association and serving members from all three Services were treated to a dramatic and enlightening presentation on the ANZAC landings at Gallipoli by SQNLDR Hugh Dolan (Retd) in the former Officers' Mess at Point Cook.
In his presentation outlined below, Hugh focused on two main themes: to highlight the employment of airpower during the Gallipoli campaign, and to disprove the myths that the ANZAC landings were poorly planned and took place on the wrong beach.
"The original concept of the Dardanelles campaign was to force the Straits using naval power alone and, having subdued the defences, to land troops to occupy Constantinople (now Istanbul).
Air operations in the Dardanelles campaign were first envisaged months before the decision to make landings at ANZAC Cove and Cape Helles. The use of aircraft was approved and the island of Tenedos selected as the base of operations in November 1914.
The world's first aircraft carrier, HMS Ark Royal (left) was dispatched to the Dardanelles with six seaplanes and four land planes, arriving at Tenedos on 16 February 1915.
On the 17 February, her aircraft conducted the first reconnaissance flight, which identified gun emplacements and confirmed that the Dardanelles forts were manned.
The first flight over ANZAC was made on 19 February, over the stretch of beach between Gaba Tepe and Hell Spit, now known as Brighton Beach, although it was not selected as a potential landing place until 13 April.
An Ark Royal aircraft reconnoitred the stretch of coast around what would become ANZAC Cove on 5th March.
On 19 February, the area had been devoid of guns, but four miles off the coast, at 3,000 feet, the sortie was hit by rifle fire and crashed. A second aircraft was also hit but returned to Ark Royal. The battleship Queen Elizabethwas hit by artillery from Gaba Tepe.
General Birdwood, commander of the Australian and New Zealand Army Corps (ANZAC) was tasked by Lord Kitchener to prepare a military appreciation of likely landing places. In his planning Birdwood argued for a tethered balloon to be used for spotting for the Navy.
HMS Manica, the first tethered balloon ship (below), was specifically designed for the Gallipoli operations.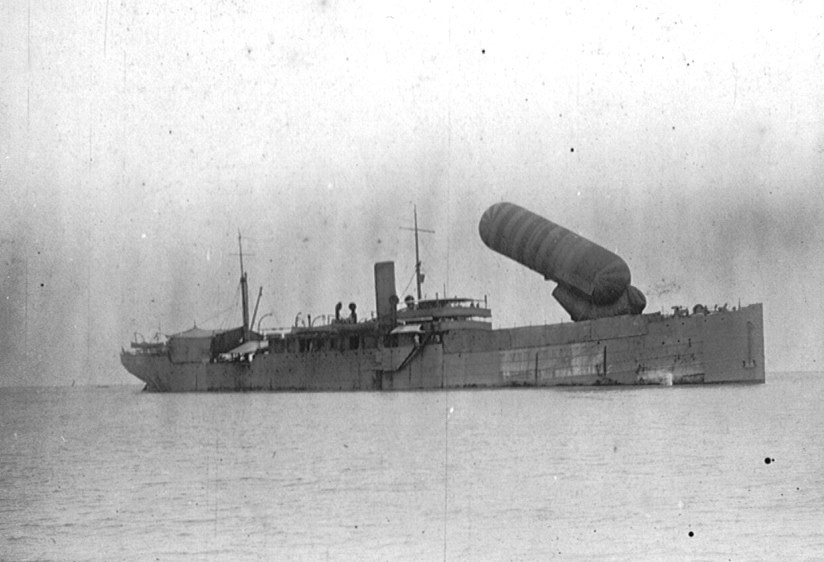 On the morning of 21 March, Hamilton concluded that an amphibious assault was necessary and advised Kitchener.
No.3 Squadron arrived in Tenedos during March. The squadron's complement was 11 pilots and 22 aircraft. HMS Manica arrived in Mudros Harbour on 10 April.
On 12 April, during No.3 Squadron's 50th mission, many gun emplacements on the Gallipoli Peninsula were identified, inaccuracies in naval maps were noted and a new road was mapped.
Gen Bridges, commander of the Australian 1st Division, and his aide Col Brudenell White, the first Australian commanders to plan a major military engagement, took full advantage of the intelligence gleaned from aerial reconnaissance. On 14 April, the ANZAC intelligence officer Major Charles Villiers Stuart, who had never before been in an aircraft, flew from Tenedos as an observer in a No.3 Squadron aircraft to overfly concealed Turkish positions, behind the proposed landing beaches. On his return he reported the presence of previously unknown artillery batteries covering the beaches.
Using information gleaned from 196 aerial missions, including 18 photographic reconnaissance missions, Bridges and White planned the Australian landings to avoid unnecessary bloodshed.
Brighton Beach was rejected as a landing place, because of the Turkish defences behind the beach, and its exposure to shelling from the battery on Gaba Tepe. Contrary to later speculation that navigational errors or tides dictated where the landing occurred, ANZAC Cove was chosen as the landing place, because there were minimal Turkish defences there.
The landings were to be made before dawn to avoid observation, there was no preliminary bombardment, and the troops' rifles were unloaded to avoid accidental discharge that might alert the enemy.
Consequently, casualties on the landing beach were minimal, compared with the British losses at Cape Helles. The first ANZAC troops were ashore by 4:30 a.m., and by 5 a.m. 5,500 men were ashore, with dawn still 20 minutes away.
Although no Australian aircraft participated in the Dardanelles air campaign, the last man killed in action on Gallipoli was an Australian serving with 3WG, RNAS. He was Sydney-born, 22 year old Flight Sub-Lieutenant Cecil Horace Brinsmead. Flying a Henri Farman he was shot down, over Cape Helles (Sedd el Bahr), by a German aircraft on 11 January, 1916, two days after the final evacuation. He is buried in Lancashire Landing Cemetery, which overlooks W Beach."
- Presentation by SQNLDR Hugh Dolan (Retd) at AFA Victoria Meet-A-Mate Event, 2 March 2018.
Share this with your friends