Branch - 21 Squadron
Meetings
Meets Air Force Association Victoria, 24-36 Camberwell Road, Hawthorn East. Meeting dates to be advised.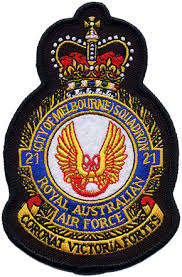 Contacts
Secretary: Mike Dance
To commemorate the 100th anniversary of the signing of the Armistice, the Air Force Association will hold a public torchlight commemoration at RAAF Base Point Cook on 4th November.
Read more...
Originally formed on 20 April 1936 at Laverton in Victoria, as a reserve unit of the Citizen Air Force, 21 Squadron flew wartime patrols escorting troopships across the Great Australian Bight enroute to Europe. After re-equipping with Wirraways, the unit moved to Singapore Island in August 1940. On arrival its aircraft were gradually replaced with Brewster Buffalo fighters and the unit then moved to north-east Malaya. The Japanese invasion one week later resulted in two aircraft being destroyed and five damaged on the ground. The remaining serviceable aircraft flew to Butterworth and withdrew first to Ipoh and then to Kuala Lumpur.
Read more...