Branch - Engineers
Meetings
Meets Air Force Association Victoria, 24-36 Camberwell Road, Hawthorn East. Meeting dates to be advised.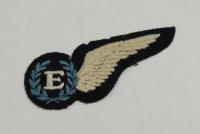 Contacts
President: Kingsley McRae
It was resolved that we would hold two functions in 2017; one in June and one in November. These functions are held in collaboration with the RAAF Engineer Officers' Association (REOA). At the June meeting David Graham (who was a member of DSTO before he retired will be our speaker at the mid-year luncheon. He was involved with the F18 aircraft (as one of our reps in the US) and was the Chief Scientist to CAF (and is well known to senior RAAF officers who served before he and they retired).
Read more...
Becoming part of the regular scene at the RMIT Alumni luncheon gatherings, the Air Force Engineer Branch, on March 6, once again filled two tables at the William Angliss Restaurant. RMIT is of course familiar with the majority of the Branch members, and the Alumni gatherings reinforce fond memories of those distant academic days. For those not familiar with the William Angliss, these Alumni luncheons are catered by the enrolled Catering School students, and is part of their training. The quality and service are of a very high standard, as is the general silver service décor. To celebrate RMIT's 130th Anniversary an Alumni Luncheon was held on Tuesday June 6, but this time at Storey Hall, hosted by the Vice-Chancellor Martin Bean CBE. The next Alumni Luncheon at the William Angliss will be Monday December 4, and the cost, yet to be advised, will be around $40, including table wines – highly recommended!
Read more...